Buy reissue at Crum Creek Press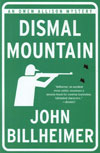 Now, in Dismal Mountain, Owen Allison returns yet again to the familiar hometown hills of West Virginia. Within minutes of his arrival he's embroiled in a battle with cheating hospital administrators and a shady land development company. When construction dumping threatens the family hollow near Barkley, Owen's Aunt Lizzie grabs her rifle and sets out to stop it. Shots are fired, a trucker is killed, and Aunt Lizzie swears she pulled the trigger. But Owen thinks she's hiding something–perhaps out of a stubborn sense of family loyalty–and he intends to find the truth before she's forced to face the consequences.
Can Owen clear his aunt's name, in spite of her best efforts to stonewall him, as well as figure out a way to stop the harmful dumping before it's too late for all the Allisons? If anyone can successfully navigate the bureaucratic mess and deal with the colorful local scoundrels, it's Owen Allison. Both are par for the course in John Billheimer's quirky and inventive mystery series.
…A first-rate crime novel…characters are so vividly drawn they threaten to wander off the page and into the real world. -BOOKLIST
Bookcrossing.com review
Herald-Dispatch Review
August 24,2001 By James E. Casto
Mountaintop mining provides backdrop for W. Va. Mystery
Huntington native John Billheimer lives in California these days, but he obviously keeps up with the news from back home.
"Dismal Mountain," the third and latest in Billheimer's series of mystery novels, plays out against a backdrop of the West Virginia mountaintop mining controversy. And, for good measure, there's also a hospital scandal that will remind some local readers of recent sad happenings at Logan General Hospital.
Billheimer will read from his new book at 7 p.m. Monday at the Cabell County Public Library. A reception and book-signing will follow.
A 1956 graduate of St Joseph's High School, Billheimer went on to study engineering, earning a master's degree at MIT and a doctorate at Stanford University. Today, he lives in Portola Valley, Calif., where he's vice president of a consulting firm that specializes in transportation planning. But he's rapidly making a name for himself as a writer of whodunits.
His first mystery, "The Contrary Blues," published in 1998, set the pattern for the series.
Former West Virginian Owen Allison, who now works for the U.S. Department of Transportation, gets in hot water with his boss for an unfavorable report on truck safety. As punishment he's sent to audit the bus system in tiny Contrary, W. Va. The last auditor dispatched to the remote hill town ended up dead, and Allison's boss apparently wouldn't be at all unhappy if the same thing happened to him.
Checking the bus system's books, Allison quickly discovers that the mayor is overbilling the feds and using the money to keep the town's sagging economy afloat. But before he can blow the whistle on what's happening, Allison finds himself framed for the murder of his predecessor. How he sets things straight made for an impressive debut for Billheimer and his fictional detective.
"Billheimer," wrote the Boston Globe in a glowing review, "unfolds his wry tale steadily, with just the right mix of humor and menace."
In the second book in the series, "Highway Robbery," published last year, Allison is summoned home to West Virginia by his mother, who wants him to solve the mystery surrounding an old body unearthed at t highway construction site. What starts out as a more or less straight-forward investigation into the skeleton's identity turns deadly as Allison struggles to piece together the mysteries in the state's past–and his own family history.
Kirkus Reviews praised the second book's "intricately layered plot and gentle good humor." Booklist called Billheimer's characters "so carefully drawn they threaten to wander off the page into the real world."
Much of the action in "Dismal Mountain," the just-published third novel in the series, centers on Allison's aunt Lizzie, perhaps his most appealing fictional creation yet. When developers try to force the tough old mountain woman off the family land, she grabs her shotgun and vows to stop them, with buckshot if need be. Soon she stands accused of shooting and killing a coal truck driver.
Allison, back home to nurse his ailing mother, comes to Lizzie's aid and–ah, but that would be telling. You don't give away the end of a good mystery.
And make no mistake about it, John Billheimer writes good mysteries. With each one better than the one before.
James E. Casto is associate editor of The Herald-Dispatch. His telephone number is (304) 526-2796 and his e-mail address is: jcasto@herald-dispatch.com