EDGAR AWARDS: The photo on the left shows fellow authors Sheila York, Erin Hart, and Rhys Bowen (left to right) with John at the 2004 Edgar Awards Ceremony. The photo on the right shows John and fellow Edgar presenter Kelly Lange (far right), with E.J. Wagner (center), whose book THE SCIENCE OF SHERLOCK HOLMES won the 2007 Edgar for the best critical/biographical work.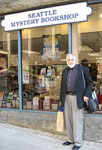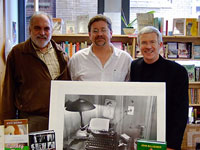 STONEWALL TOUR: The photo on the upper left shows John in front of the Seattle Mystery Book Store, one of the stops on the tour publicizing STONEWALL JACKSON'S ELBOW. John made the tour with fellow author Mark Coggins, who was publicizing his book CANDY FROM STRANGERS. Mark took the picture, and remarked on his web site that, as evidenced by his briefcase and shopping bag, John always seemed to buy more books than he sold at every store the two of them visited. The photo on the upper right shows John and Mark (right) with J. B. Dickey (center), manager of Seattle Mystery Books. The photo on the lower left shows a cake adorned with the covers of the two authors' books, prepared by the owners of Murder by the Book in Denver. The photo on the lower right shows Mark and John with Cynthia Nye, owner of High Crimes Mystery Bookshop in Boulder, Colorado.

MORE TOUR SHOTS: The photo on the left shows fellow mystery author and Huntington, West Virginia native Craig Johnson (center) with John and Scott Montgomery at the February 2007 Left Coast Crime conference in Seattle. The photo on the right shows John and Mark Coggins with Mike Hoover (standing, rear), owner of If Books Could Kill in Las Vegas with his partner, Jim Gattis.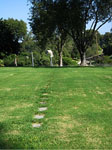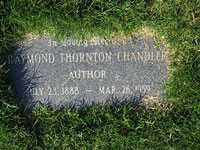 CHANDLER PILGRIMAGE: While on their publicity tour of San Diego, John and Mark Coggins made a side trip to visit the home and grave of Raymond Chandler.The photo on the upper left shows Chandler's La Jolla home, currently undergoing a controversial renovation. The upper right photo shows John standing in the line of sight of the view from Chandler's picture window. The photo in the lower left shows the row of grave sites in Mount Hope cemetery where Chandler is buried, while the photo in the lower right shows Chandler's headstone.